What to do and see in Kathmandu
Temples and Artwork
Visit the UNESCO World Heritage sites and you will get to experience artwork that has been preserved for centuries.
Festivals and Culture
Different festivals are celebrated around the year. Know the dates, be there at the spot and observe the festivals first hand.
Taste the Cuisine
The local cuisine comes in the form of Nepali, Newari and Tibetan dishes. You can opt-in to try these spicy flavors.
Visiting or passing by Kathmandu? You wouldn't want to miss what the city has to offer.
Kathmandu (also known as KTM) – the capital of Nepal, is the first place that you will step in when you enter this nation by air. Tribhuvan International Airport (TIA) is the only international airport in Nepal and it happens to be located in Kathmandu. So, your journey in Nepal begins in this city filled with temples. It is also referred as "The City of Temples" because the place is filled with pagoda style temples which mostly dates back to 16th and 17th century.
Kathmandu is the name of the bowl shaped valley and it also happens to be the name of one of the cities located in this valley. The name of the valley is "Kathmandu Valley" and the name of the city is Kathmandu city. It is also referred as KTM city or just KTM. In Newari, it is called Yẽ or Yẽ Deya. Some old names of it are Kantipur or Kasthamandap Mahanagar. The name of other sister cities located inside this valley are Lalitpur also known as Patan, Bhaktapur also known as Khwopa, Kirtipur and Madhyapur Thimi. Together these cities form the largest urban settlement of Nepal housing the highest number of people.
When you land in Kathmandu, don't let the population, traffic, and pollution scare you off to another city. You've landed in one of the densest valley in the world and if you come from a quiet place, you might never get accustomed to the noise. Since you've landed here already, make the most of your time. There's a lot to see here before you move on to other cities like Pokhara and Lumbini or before starting your trek into the great Himalayas.
When you're in Kathmandu, don't forget:
To check out religous complexes and ancient courtyards filled with temples and shrines.
The year round festivities and the cuisine that comes with them.
Tasting the local food that include Pahari, Thakali, Newari, and other popular cuisines.
Exploring the tiny alleys that is surrounded by houses of classical design.
To visit the old markets where you'll find items being sold that are quite unique.
Museums that potray items of historical importance to the nation.
Experiencing the city at different times of the day. Mornings and evenings are way better.
Hiking to the hills in the outskirts of the valley.
Night life with live music in bars, clubs and restaurants.
Take a sip of local drinks and beverages.
To shop for items that you need for your next destination in Nepal.
To always keep exploring for more.
Your journey in this amazing Himalayan nation most definitely starts in Kathmandu. Here in KTM, you will find several architectural buildings. It isn't called the city of temples because it is a catchy name. You will find tons of temples built during ancient times that have a lot of artistic details and cultural values embedded in them. Every place in the city is bound to have at least one temple. But you'll find the amazing ones in the three durbar squares of the valley: Kathmandu Durbar Square, Patan Durbar Square and Bhaktapur Durbar Square.
Besides the durbar squares, Kathmandu is also the home to a number of United Nations Educational, Scientific and Cultural Organization (UNESCO) World Heritage sites. There are seven world heritage sites here in total. These sites are usually filled with temples or stupas. They are all old – dating back a few centuries at least.
You will find most temples in the durbar squares dating back to the 16th and 17th century. The Buddhist stupas are older than that and are claimed to be of the Lichhavi period. Most temples inside the durbar squares have been renovated after they were destroyed in a major earthquake that occurred on Jan 16, 1934. They are maintained regularly, so don't be surpised to find them under renovation. Their original designs are preserved during the process.
You will find many temples of historical importance scattered around the valley. But the most recommended places to go in Kathmandu are the UNESCO World Heritage Sites. Such sites are home to temples of utmost historical and cultural importance. They are quite fascinating to visit and are filled with tourists.
You will also find other tourist areas in Kathmandu. Places such as Thamel, Jhamsikhel, Pulchowk, Jawalakhel, Durbarmarg, Lazimpat, and Freak Street are popular among locals as well as domestic and international tourists alike. These locations have restaurants, shops, hotels and general places to hang out.
All the major government offices and banks of Nepal are also in Kathmandu. Chances are you will have to come here if you have some official work. Kathmandu is also naturally the largest market of Nepal. It is a business hub with the most economic activities when compared to the rest of the country. So, whether it is for cultural tours or for shopping, restocking and socializing, you will find it best served in KTM.
The 7 UNESCO World Heritage Sites
Kathmandu Durbar Square
Kathmandu Durbar Square is located in Kathmandu city. It is situated around the center of the city. It is also known as Hanuman Dhoka Durbar Square or Basantapur Durbar Square. There are a lot of things that you can see in Kathmandu Durbar Square. The square is filled with temples of historical and architectural importance. You will see classical wood work and pagoda style design in most if not all temples.
The main durbar square holds temples dating back to 16th and 17th century. There's also a museum inside the square which displays a lot of things related to the old kings of Nepal. When you go to the museum you will actually get to step inside the old Hanuman Dhoka Palace. Amidst all the happenings in the urban city of Kathmandu, this is a great place to be in.
Patan Durbar Square
Patan or Lalitpur is located right next to Kathmandu. Just cross a bridge over Bagmati river and you will reach Lalitpur. Patan Durbar Square is quite similar to Kathmandu's Durbar Square. It houses a lot of temples. You'll find the design and layout quite similar. But, one of the most famous temple or a unique one in Patan Durbar Square has to be the Krishna temple which is made of stone.
Patan is kind of an artistic town. The museum in the square displays visual arts and paintings. The durbar square also houses a school, some gift shops and the famous local newari restaurant called Honacha. You might want to try out the spicy food and the local drinks there if you feel that your tummy can handle it.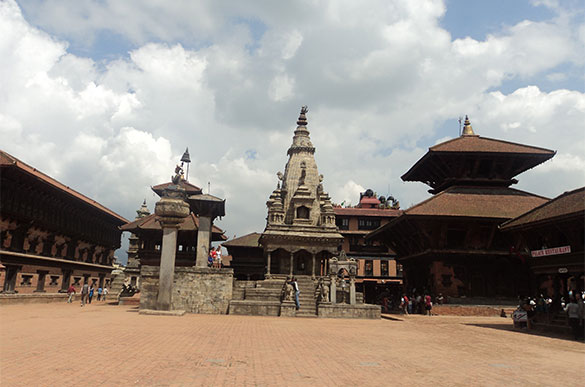 Bhaktapur Durbar Square
Bhaktapur Durbar Square is a bit far. To reach Bhaktapur, you will have to travel by bus or in a cab/taxi. The distance is around 13 kilometers from Kathmandu. After you reach Bhaktapur, you will find that it is the least populated and the cleanest among the three cities. It is well maintained and the beauty this glorious city displays is rich in culture.
The square is filled with temples that are of historical importance. This UNESCO world heritage site houses some of the most famous temples like the five-storeyed temple or Nyatapola and the fifty five windowed palace. The place is just simply majestic and a pleasure to the eyes. If you have time to make it to only one durbar square, go for Bhaktapur's.
Swayambhunath
Famously known as the Monkey Temple by westerners, Swayambhunath is located on top of a small hill in Kathmandu. Climb up around 400+ flight of stairs which gets tougher as you go up, and you reach this beautiful place with a view facing Kathmandu. You have the option to climb fewer stairs if you take back entrance.
The main attraction of this temple is an ancient Buddhist stupa. The hill is filled with several Chaityas devoted to Buddhism. You will find statues, monasteries and a museum – all devoted to Gautam Buddha who was born in Nepal. You'll also find a Hindu temple of Harati Devi and the temple of Manjushree at the back. There will be monkeys as the name suggests and do not forget to go behind the hill to visit Buddha Park.
Boudhanath
Boudhanath is in the north-eastern corner of the valley. Here you'll find a giant stupa which in design is similar to that of Swayambhunath. The stupa is bigger but you won't have to climb a hill to reach it. This ancient stupa looks marvelous, and you will find people worshipping it and going around to circle Boudhanath. You can of course join them. Remember to go clock wise.
The place is also filled with restaurants and gift shops. You will find interesting Buddhist music playing around the location. This is one of the biggest stupa dedicated to Buddhism. Nearby, you will also find several monastaries.
Pashupatinath
Pashupatinath is the holiest among Hindu temples in Nepal. It is one of the places that Hindus go to when they are on a religious pilgrimage. Pashupatinath holds a lot of values in Hindu culture. The design of the temple is superb. The temple and the surrounding area is filled with religious sites and other sacred temples. You will also find several sadhus around the area.
Pashupatinath is a temple exclusively for Hindus. Only Hindus can enter the main temple. If you are a Hindu originating from South Asian countries like India, then you can enter the temple. Others have to enjoy the view from outside, which is still great. The rule is slowly being relaxed. You will also find cremation areas near the banks of the Bagmati river just outside Pashupatinath.
Changu Narayan
Changu Narayan is an ancient Hindu temple. It is considered as the oldest temple of Nepal. This temple is located in Bhaktapur district on top of a hill. This temple is said to have been built in the period of Licchavi kings.
The work of art on this temple is rich and you will be amazed to see really old designs carved on it. Here, you will also find a historic pillar which was set by Mandeva in 464 AD. The dates on some sculptures here go really back from 5th to 12th century. You will also find a museum in the area.